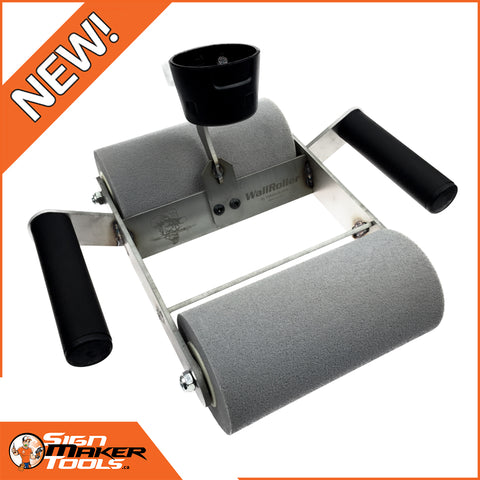 WallRoller HOT
Don´t miss tomorrow's technologies!! The WallRoller "Heat" with Quick-release-Bracket for Steinel heat gun provides maximum torque for your arms at every wall application with thermoplastic-vinyls. 
The WallRoller HOT comes at a higher price point in comparison to the 3M TSA wall roller for several reasons:
A. Unlike the 3M roller, which has only a single 4" roller, the WallRoller HOT is equipped with two 7" rollers, providing enhanced coverage.

B. While the 3M frame utilizes 2mm aluminum, the WallRoller HOT frame is constructed from 2mm stainless steel, ensuring greater durability.

C. Unlike the 3M roller's design, which locks the heat gun nozzle directly into the frame and results in excessive heat transferring to the frame, the WallRoller HOT's innovative design separates the heat gun from the frame, minimizing heat transfer and the need for safety gloves.

D. The 3M roller's heat application is limited to the width of the heat gun's nozzle (1" to 1.5"), whereas the WallRoller HOT features a wide nozzle that allows for a 4" heating area.

Price without a Heat Gun. Works only with newer Steinel brand heat guns.
---
We Also Recommend
---