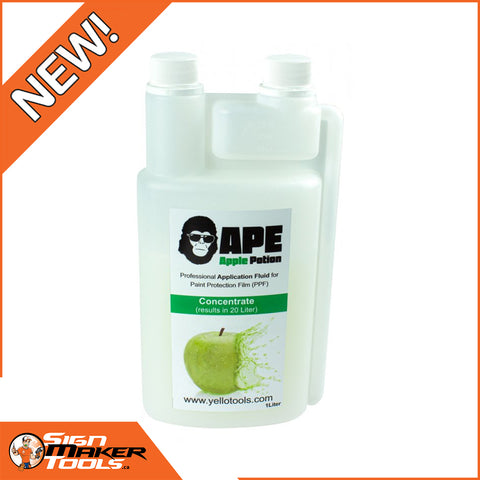 APE ApplePotion
Perfectly coordinated bonding aid for stone chip protection film ( PPF )
Those who think that the revolution lies only in the pleasant apple scent may be inspired by the laying properties 😊
This "magic liquid" (Potion) allows the film to "glide" perfectly on the one hand and on the other hand to fix and adhere quickly if desired and with a short pressure. Due to the basic properties of the mixture (e.g. pH-neutrality and hardness) the adhesive of the films is not attacked and your stone chip protection film receives the desired, optimal gloss finish. Even removal of the film after a short time is possible without problems and makes possible corrections and changes easy. The so-called "Low Cloud" technology prevents a "cloud formation" of the adhesive.

Of course, we also recommend mixing the required amount fresh with distilled water before each new customer order - but even if the ApplePotion "stands still" for a certain period of time, it will still be perfectly workable and spread a pleasant fragrance. The practical dosage aid in the 1-liter bottle saves you having to fiddle with measuring cups and additional containers. Simply open the second lid in the dosage bottle, press the whole bottle in slightly until the small additional container is filled and add it to one liter of distilled water. That's it.
Film expert Rainer Lorz also uses the ApplePotion for perfect pre-cleaning and post-cleaning of all filming work due to its excellent properties. He recommends mixing ONE dosage unit with 10 liters of water - and you will get a fantastic surface cleaner. APE ApplePotion is of course completely biodegradable, skin-friendly, clinically tested, and pH-neutral.
Available as:
1 liter (results in about 20 liters of bonding liquid!)
fully biodegradable
gental to the skin
clinically tested
ph-neutral
---
We Also Recommend
---