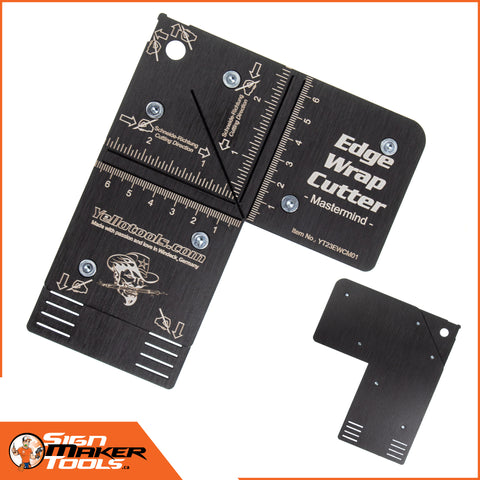 EdgeWrap Cutter MASTERMIND
Our longtime friend and distributer Zigfrid Tijunelis from  Sign Maker Tools Ltd. Canada suggested that we equip the popular EdgeWrap cutter with additional features. 
The new  EdgeWrap Cutter Mastermind offers the full range of functions of the EdgeWrap Cutter so that bonding can be carried out either butt joint, with a single-leaf overlap or a "BUTTERFLY" double-leaf joint
It also has additional cutting slits for even spacing, such as our WrapSlipCuts for window film: With this, the overhanging film can be uniformly cut to size in four steps from 0 to 20 mm when gluing to the back of tabletops and drawer fronts. 
In addition, 5 mm cuts are now also possible with corner bonding on furniture edges in order to be able to conceal the film overlap even better. The result is perfect, splatter-free bonding that also meets the highest demands.

The EdgeWrap Cutter Mastermind is made of shatterproof POM plastic, which, in addition to being lighter, also offers less adhesion of the foil material.


product features
Cutting template for furniture foils and advertising signs

Adhesion either overlapping or butt joint

Knife guides for 90-degree, 45-degree, or BUTTERFLY cuts

Cutting slits for exact distances when glued on the back

Material: POM, unbreakable

Dimensions (L x W x H): 

 

13 x 17 x 0.8 mm

Weight: 180g
---
We Also Recommend
---