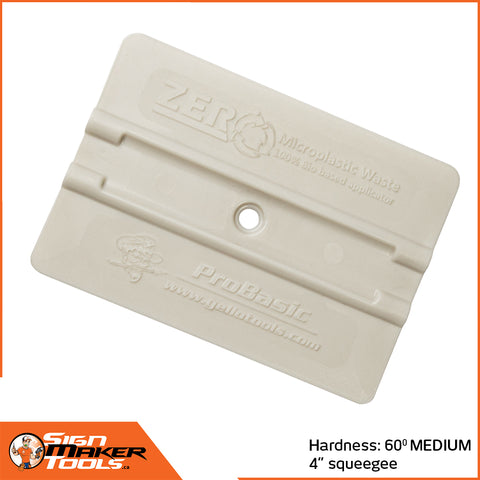 ProBasic ZERO
A squeegee made from degradable bio-plastic!
Since our company was founded, Yellotools has been committed to developing and offering innovative products for the signmaking industry. Not only in terms of handling, user-friendliness and multi-functionality, but also with respect to the materials used.
With new types of materials and material mixtures, it is possible to manufacture environmentally friendly products that can make a contribution to the preservation of our planet. So join us on the path to a more sustainable future: we are taking a big step with the new ProBasic ZERO, the first squeegee made completely from a bio-based material!
A synthetic product for the future: no silicone, no petroleum, no CO2!
The ProBasic ZERO's material consists of 100% bio-based components, 30% of which are obtained from renewable raw materials such as sugar cane and cellulose. Thanks to this innovative mixture of materials, the ProBasic ZERO offers unique properties: it is industrially compostable and also burns CO2-free, as the material contains no petroleum or silicone. In addition, the material complies with the European REACH regulation and is food-safe; it also meets the requirements of the American FDA*.
Of course, the ProBasic ZERO squeegee can be used without any restrictions for applications in sign-making and car wrapping. With a comfortable Shore hardness of 60°, it is flexible enough for car wrap jobs. Due to the established side length of 4", all YelloWings squeegee pads can be used with this format. 
With the ProBasic ZERO, we are setting an example as a manufacturer for more environmental awareness - would you as customers like to support us in spreading this message in the sign making industry? The ProBasic ZERO is also an excellent marketing tool to get the message of more sustainability out to your customers!
Product Features
Squeegee made from organic materials
Food safe / BPA and phthalate-free
Complies with the European Toy Directive (safe for children)
100% REACH & FDA compliant material
100% 

industrially compostable

100% CO2-neutral combustion
100% closed CO

2

 

cycle
ZERO petroleum-based substances
ZERO residues
ZERO microplastics
Made in Germany
*The product is suitable for contact with all foods that meet FDA food types I to IX (except infant formula, breast milk, and foods containing alcohol) and meets FDA use criteria C to G.
---
We Also Recommend
---