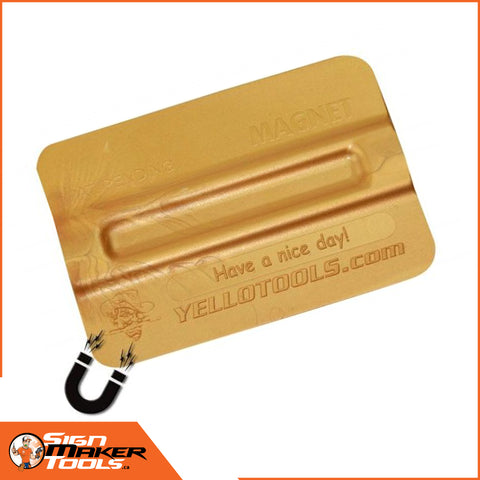 TonnyMag GOLD medium
Our dear friend Tonny Hubert from Denmark invented the popular hybrid mix of squeegee and magnet. A fantastic two-in-one squeegee magnet tool was born! 
Unfortunately, since he was dependent on external injection molding suppliers, his choices were limited and he was only able to offer his tool in a single plastic version which was not ideal for many users. So this had to be changed! 
As perfect as some things may seem, there is always room for improvement! :) Yellotools is proud to announce a new product partnership! We will now exclusively produce and distribute this unique patented idea in our very own popular spectrum of hardness grades! And as always, use only the best-certified plastics that are free from hazardous substances, harmful plasticizers, and carcinogenic ingredients. 
The advantages are literally "in your hands" :) The two laterally integrated magnets "park" the squeegee on all magnetic surfaces. Thanks to the enormous holding power, the TonnyMag can also help position and align digital prints and plotted graphics too. And don't worry, the entire lineup
of our self-adhesive protective strips "YELLOWINGS" are available as well for the TonnyMag! You can find them on our webshop.
---
We Also Recommend
---