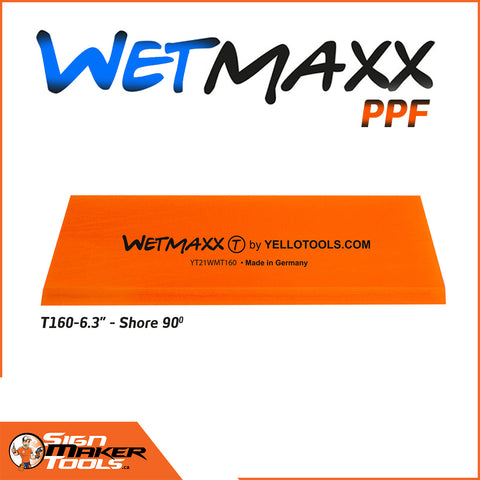 WetMAXX 6.3" PPF
Squeegee blade for PPF installation
The new WetMaxx squeegee system makes the wet bonding of window films, tinted films, and decorative films easier than ever: The squeegee blade, specially developed for flat glass applications, glides optimally over the film and displaces the bonding liquid without leaving air pockets. It doesn't matter whether it's UV protective films on office windows, decorative films on partition walls in the toilet area, or window tinting films on rear and side windows - the WetMaxx is the ideal tool for professional applications in advertising technology and car wrapping!
The squeegee blade is available in two degrees of hardness and three shape variants: The orange version with 90° Shore is perfect for bonding on curved vehicle windows, and the white variant (95° Shore) is designed for flat glass surfaces such as shop windows and glass facades.
In addition to the rectangular version with a width of 130 mm (only in 90° Shore), we offer two trapezoidal versions with a width of 130 or 160 mm and 15° edge angle, each in the two degrees of hardness 90° and 95° Shore.
Robust construction for easy handling and long durability
Two sturdy aluminum mounting plates hold the WetMaxx squeegee blade securely in the middle, the ergonomic handle is equipped with a non-slip and skin-friendly grip tube. The angle of inclination of the squeegee blade is continuously adjustable; To do this, simply loosen the relevant screws, adjust the angle and tighten the screws again. 
To protect the foil from scratches, we have covered the lower holding plate with our proven microfibre material. This fabric patch is pre-assembled and can also be ordered separately.
Flexibly adaptable for different uses
Depending on the job, the WetMaxx can be quickly converted, e.g. by replacing the squeegee blade or installing the additional handle for more contact pressure - a tool with many possibilities that can replace many other bonding tools in your tool bag!
All components of the WetMaxx squeegee system are available individually: From the squeegee blade to the handle to the additional handle, you can put together your WetMaxx individually. As a standard recommendation, we offer the handle in pairs with the various squeegee blades.
The system can also be ordered as an all-in set - here you get all the individual parts in a complete package and are immediately prepared for all requirements ;-)
 Product features
Heavy-duty squeegee system for wet bonding on glass surfaces

Two degrees of hardness available: 90° and 95° Shore

Three shape variants: 5.1" mm rectangle / 6.3" mm trapezoid / 160 mm trapezoid.

Ergonomic, non-slip aluminum handle

Length handle: 5.1"

Steplessly adjustable inclination angle

Microfiber cover for scratch-free bonding

Additional handle for more contact pressure when installing ppf or tint
 Notes on configuration
A correspondingly wider clamping plate ( SparePlate 6.3" ) is required to attach the 6.3" wide squeegee blades. This can also be ordered separately; the standard SparePlate 5.1" clamping plate is also available separately.
---