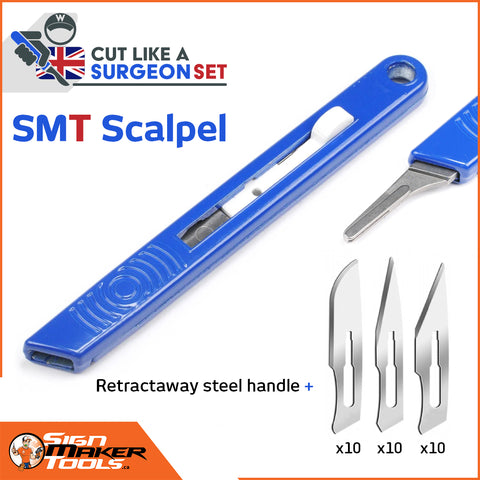 SMT Scalpel
This solid, heavy handle will allow you to retract the blade into the handle's body for safety and ease of storage in your tool pouch or pocket.

Handle size - 4.75"x0.5"x0.3", weight - 1.75 oz (50 g)

Scalpel handles and blades are used for precision cutting, carving, and slicing in a wide range of sign shop applications. Please remember that the cutting edge on your scalpel blades can easily be damaged if contacting a hard surface so it is advised to use a CuttinMat XXL Frost. Cutting down onto glass, marble or hardwood can reduce the longevity and performance of the blade and there is always the chance you will score the surface underneath.
Sold a set: One retractable handle and 3x10 different shape blades.
---
We Also Recommend
---